MEET FACEIO
Cross Browser, Facial Authentication Framework
An easy to implement, secure, and adaptable Passwordless Authentication & Authorization framework for web applications powered by Face Recognition.
Once Implemented on your site, you'll be able to:
Instantly authenticate users via face recognition with maximum convenience on their favorite browser.
Enroll new users, securely, and at real-time without FIDO keys, OTP codes, or security questions...
Reduce fraud with facial recognition and maximize conversion thanks to Passwordless authentication!
Solve audience authentication once for all. Say goodbye to bots and automated scripts!
Seamless user experience
Instantly authenticate your users with facial recognition on their favorite browser
FACEIO works with regular webcams and frontal cameras on all modern browsers, does not require specialized sensors, fingerprint or depth perception thanks to state-of-the-art facial recognition engines.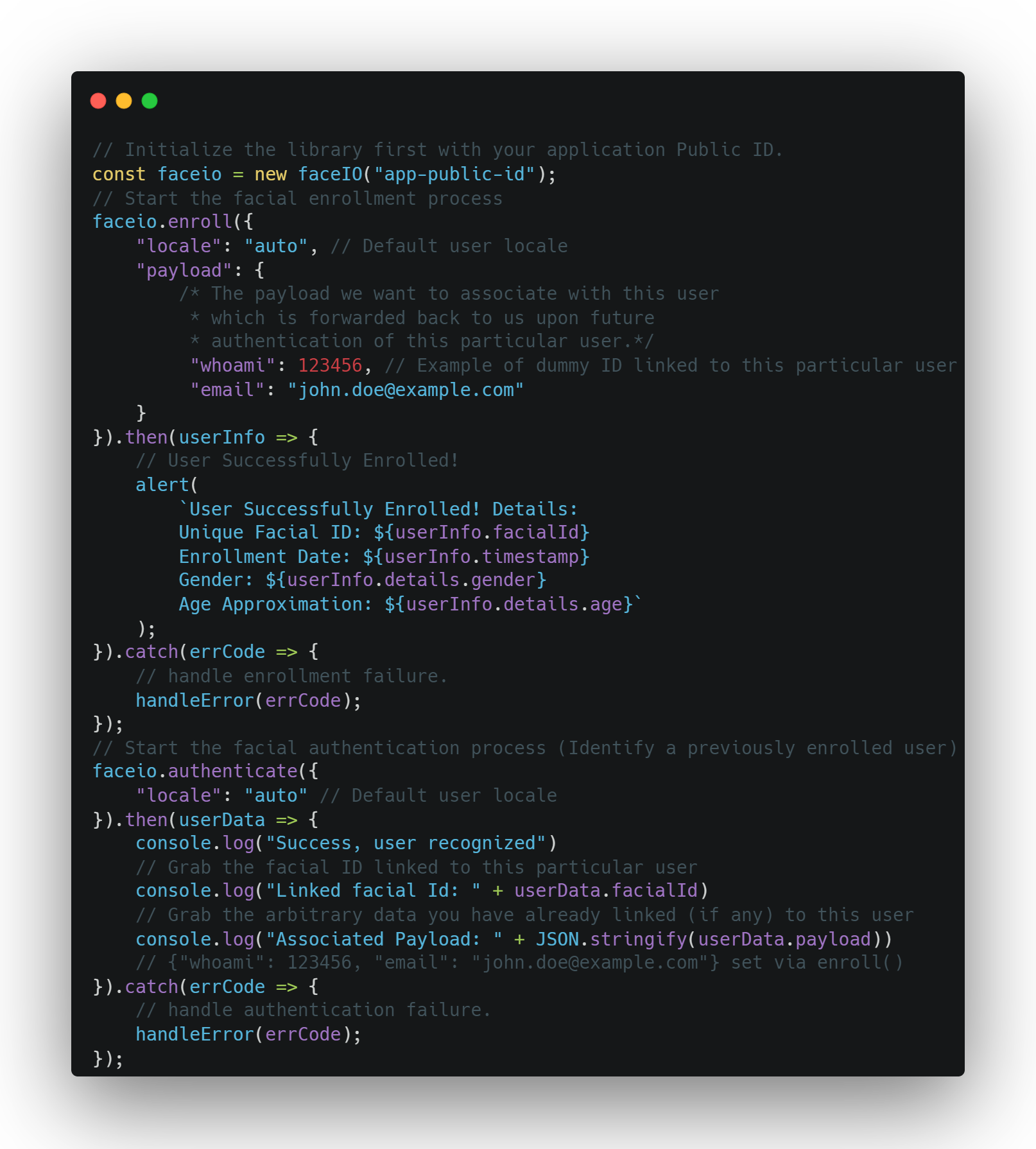 Zero external dependency. Only standard technology implemented in plain JavaScript & CSS.
Full cross-browser compatibility (Chrome, Firefox, Safari, Edge & Chromium derivatives).
Full Support for Cloud & On-Premise Deployment.
Increase trust & safety on your platform
Maximize Conversion & Retention Thanks to Passwordless Authentication
Increase Customer Retention Rates
Moving Business Forward
Say goodbye to bots and automated scripts. Build safer and smarter authentication & on-boarding experience for your users powered by Facial Recognition...
Accuracy in the Wild
99.8% LFW recognition accuracy with optional PIN code requirements to achieve 100% accuracy.
Stay Compliant
Strengthen your Verification & KYC application with facial recognition.
On-Premise Deployment
Facial hashes & Meta data never leaves your deployment servers if opted for.
Maximize Conversion
Increase customers retention with quick, low-friction user experiences.
Implement FACEIO Today

Fintech & Financial Institutions
Reduce abandonment rates, keep fraudsters out, strengthen your KYC application form...

Online Communities & Marketplaces
Authenticate users in seconds and facilitate trust in your platform...

Booking & Travel Agencies
Streamline flight, rental car and hotel check-in processes...

C2B - Consumer to business
Simplify the user experience thanks to facial authentication!
Simple experience, proven technology
Eliminate Passwords. Balance Usability & Security Thanks to Facial Authentication.
Results you expect. Implement FACEIO Now!
Ready to get started?
Give FACEIO A TRY!
Learn how to create your first FACEIO application, implement fio.js on your website, enroll your first user, and finally roll facial authentication to your audience...